Press release: Interactive panoramas of the launch of a Soyuz rocket with a Progress 12M cargo vehicle on the 24th of August, 2011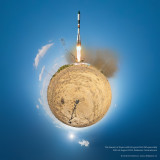 August 24, for the first time in the history of launching spacecraft in Russia, the Estonian photographer, Andrew Bodrov, shot interactive 360° spherical panoramas during the launch a Soyuz-U rocket carrying an unmanned Progress M-THC 12M cargo vehicle from the Baikonur Cosmodrome.
You can find interactive version of panoramas here:
http://www.360pano.eu/baikonur

You can also see panoramas of the main memorial sites of the city of Baikonur, Kazakhstan, on this page.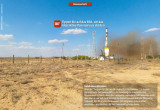 Unfortunately, due to an engine failure, it never reached orbit and crashed in Siberia just 340 seconds after launch.
While this was bad news for the international space industry Andrew's panoramas brought more media and public attention to Russia's role as the gateway to the International Space Station. Andrew's panoramas are featured in DER SPIEGEL's iPad issue number 35, has been selected by 500px as Editors' Choice and picked up to be the "Picture of the day" for Times Photo Journal on FaceBook.
See also:
Photographer Andrew Bodrov, a member of the International Virtual Reality Photography Association (IVRPA), has been professionally engaged in panoramic photography for over 10 years. He has shot panoramas for for the 3D Tallinn Project, Tallinn Song Festival, Cathedral of Christ the Savior in Moscow, as well as hundreds of other panoramas from around the world.